In the wake of COVID19, the live event production sector was decimated. Production companies scrambled to figure out how they would survive. Edmonton's Production World found a way by focusing on live virtual events, pairing their streaming technology with Zoom. Organizations responded.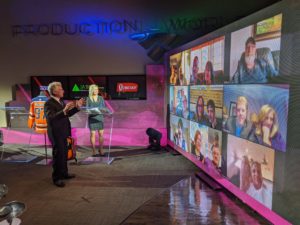 Junior Achievement mounted their gala fundraiser, which included a live auction, silent auction and entertainment. Food was delivered to the doors of participants who sat at home in their comfies and enjoyed the event. JA raised $65,000.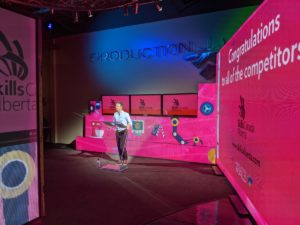 Skills Alberta honoured hundreds of participants across Alberta, streaming the event from Production World's Virtual Studio. The event saw volunteers go to the doors of medal recipients and, using their phonecams, they captured selected medal presentations live. An estimated 550 to 650 people watched via 498 Zoom connections.
The Zebra Child Protection Centre hosted their Wine and Wellness Wednesday online, sharing stories and hosting a variety of speakers. All live. All virtual.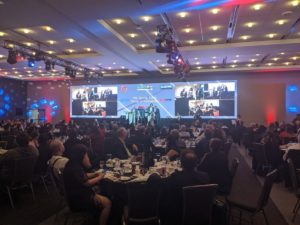 Although a pre-COVID event, Driving Force hosted a 3-city, employee recognition awards event bringing together Edmonton, Regina and Fort McMurray. The company had intended to do two other legs of the event, but when COVID hit, the project was shelved. Now, the company wants to do the two remaining events virtually.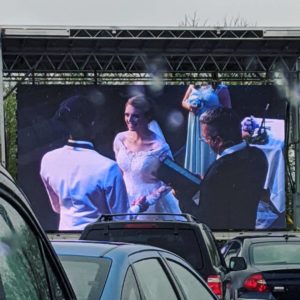 Production World was at the helm of a live, virtual drive-in wedding featuring guests from around the country and the world.
Production World has a number of live virtual events coming up on their schedule and, for the foreseeable future, the trail-blazing company has no intention of looking back. Of course, once the world gets past COVID, live events will return. Watch an overview of Production World's virtual events at the top of this article.
However, the question is: will live virtual events fade away?
Certainly, nothing replaces the experience of live events and, eventually, they will come back. With that in mind, some are saying that live virtual events will fade away. Event planners in organizations are saying something different. Having experienced the impact virtual events have, event planners are seeing an opportunity to expand their audience reach.
Chris Duncan, who has been at the helm of Production World's foray into virtual says, "There is much thought being given to how a larger audience can be connected to a live event. It's really nothing new. Webinars attract people from all over. So, why not mount a live gala in a venue and add a virtual component to reach a broader audience who would not otherwise attend?"
Indeed. These additional participants can participate in a live auction. It is a very attractive opportunity for non-profit organizations, which struggle at the best of time to raise funds. Online events maximize engagement through social media as participants share the event experience with their own communities, further engaging a broader audience. The increased scope of feedback gives organizations more substantive intel about what people are responding to.
On the drive-in side of events, Production World is busy providing their virtual arsenal to drive-in concerts for the River Cree in Edmonton. The multi-concert series kicks off with award-winning, Canadian country artist, Brett Kissel.
"We've doing weddings, church services and, now, we're doing concerts. We've even had inquiries to do virtual funerals," says Kelly Kimo, Production World's owner.
As the company continues to hone its virtual approach to producing online events, web event platforms such as Zoom are learning that they have to develop their technology. The demands of live events with auctions and performances challenges the current platform. Thanks to companies like Production World, they are learning where the gaps are.
Perhaps the jury is out, but the prevailing wind is sending messages that the virtual side of live production has a place in the scheme of things. For Production World, it's a given. Now it's up to the rest of the event industry to decide how far it goes — virtually.