It was a first in many aspects. The Rotary Club of St. Albert celebrated its 30th anniversary. Virtually. By all accounts, it was a first for Rotary in the region, possibly the country.
Mark Dixon, the Club's President, is a veteran Marketing Professional. He had seen some of the virtual events produced by Production World and worked with his fellow Rotarians and took the plunge. The result? The Rotary Club of St. Albert Virtual Gala, "Celebrate St. Albert", Fundraiser and 30th Anniversary Celebration.

It was ambitious. The event included a silent auction of more than 100 items, live performances, videos and live, on location cut-ins from various St. Albert restaurants supporting the event.
Mark brought in former veteran broadcaster, Shawna Randolph, now a Board Director of the St. Albert Chamber of Commerce, along with 630CHED's Ryan Jesperson, one of Edmonton's best known on-air radio personalities, to assist with the event. Shawna co-hosted with Mark in the studio, while Jesperson provided live cut-ins from three of the participating restaurants. Rotary Club Members provided additional coverage from the paretner restaurants including Nineteen, Nello's Italian Restaurant, Riverbank Bistro, Luisa Risto and Sorrentino's.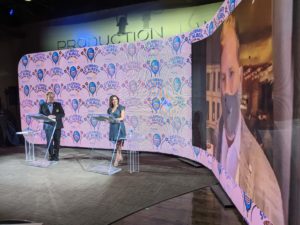 The event also gave Production World a chance to show off the new-look studio featuring a 10' by 36' LED video wall, which wrapped the room with light and images.
Among the various appearances from guests were two very talented young performers. Daphne Charrois sang O' Canada to start things off, a Rotary tradition. This bilingual, St. Albert performer is currently training for Broadway at the American Musical and Dramatic Academy in New York.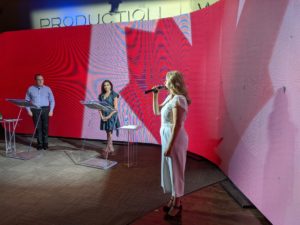 The second live performance came from another young St. Albert talent, Hailey Benedict, a singer-songwriter who made her mark in a debut performance with Keith Urban at Roger's Place in front of 20,000 fans.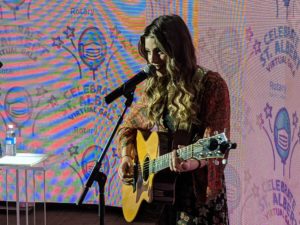 Capping off the event was the presentation of a Rotary Paul Harris Award to Bruce McPherson. Rounding out the evening was a wine draw as well as a 50/50 draw.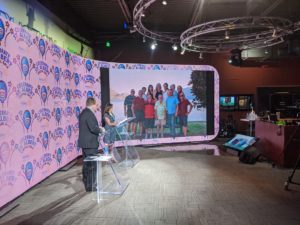 The event, which ran a little over an hour, raised nearly $50,000 (as reported at this writing). The funds are going to the support of SAIF – Stop Abuse in Families, youth mental health, and other organizations supporting those hit hard by COVID19.
Chris Duncan, the Director of the live broadcast, said, "We've done a number of these events and we have many more coming up. It's a thrill to see organizations realize they can reach out in a COVID19 world and not only make a connection, but attract participation, raise resources and answer to the needs of their community. The events we have produced so far have generated close to $150,000. That feels good, knowing how challenged non-profit organizations are and, certainly, the other organizations and services that rely on them for support."
Production World has seen tremendous success with community organizations such as Junior Achievement, Zebra Foundation, and Skills Alberta/Canada. And now …. the Rotarians.