In the face of COVID19, countries and regions have introduced prevention and control measures to fight against the pandemic, such as closing non-essential business establishments and restricting people's movement in public places. Like many others, supermarkets and stores have also adopted safety protocols to comply with government directives, including hand sanitizer stations, customer and staff temperature monitoring, reduced capacity limits, contactless customer service and payments, and other protocols and procedures in order to keep their customers and staff as safe as possible.
Dahua Technology, a world leader in video-centric smart IoT solutions, has developed products that are being used by major companies and institutions around the world. For retailers, manufacturers, corporations, hospitals and schools, Dahua Technology answers to the challenges presented by COVID19.
How to ensure that the temperature of customer and staff entering a venue is normal
How to efficiently maintain the number of people in the venue
How to avoid people gathering
CUSTOMER FLOW CONTROL SOLUTION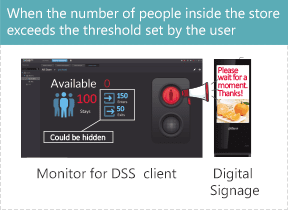 This solution counts the number of people inside in real-time. When the number of people exceeds the threshold set by the user, it will remind people to wait outside.
TEMP MONITORING SOLUTION
This solution ensures that the temperature of the people entering the area is normal. It detects body temperature in real-time. When the temperature reaches the threshold, an alert notification will pop on the screen and the sound alarm will be triggered at the same time. The Dahua Thermal Hybrid Camera combines a Vanadium Oxide (VOx) sensor with a 2 MP visible-light sensor. The solution uses a blackbody calibration device that maintains a constant temperature as a reference point for the thermal camera.
SOCIAL DISTANCING REMINDER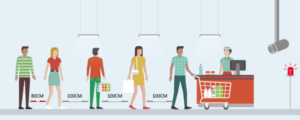 This solution helps to avoid close and physical contact to reduce the risk of cross contamination between people. When the physical distance between two people are less than the preset value, the system will remind the staff to act accordingly.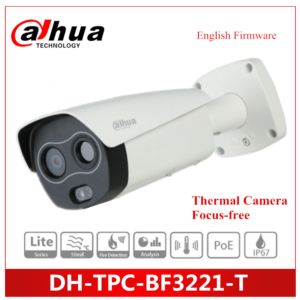 To learn more about Dahua and their thermal recognition cameras and recorders, watch this VIDEO.