Being named one of Canada's 50 Best Managed Companies four times says everything about Driving Force, an integrated vehicle rentals, sales, and leasing organization across Canada. 2020 was a year to celebrate the hundreds of people who work in Driving Force's many outlets.
The Employee Recognition Awards were originally set up as three separate events covering various regions. After the first event in March, plans changed in the face of COVID19; however, the upheaval did not deter the Driving Force team and they turned to Production World to find a virtual solution.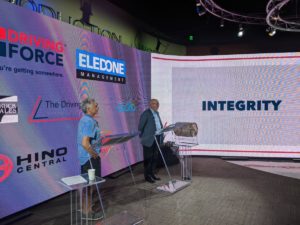 Danny Hooper, one of Canada's premiere emcees and auctioneer, hosted the online, virtual awards show. He has enjoyed a longstanding relationship with the company and was joined by Driving Force's executive team including included Mark Nolin, President, Ayman Ammoura, COO, Jacob Coonan, CFO, Tammy Hamilton, Vice President, Sandra Green, Director, Communications and Marketing, and Greg Tilley, President, Eledone Management.
Canadian country music star, Brett Kissel, kicked things off with a powerful song. Hooper, as always, kept the awards program going with his on-the-spot humour and flair.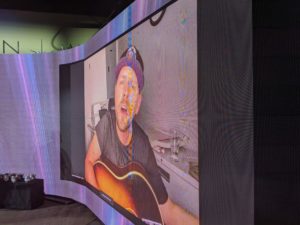 Hundreds of employees in Alberta, Ontario, British Columbia, Northwest Territories and Nunavut participated online to share in the celebration. Awards were given out in several categories including three, five, ten and fifteen-year service awards, as well as awards for rookie of the year, safety, customer service, excellence (in various categories), service, sales, and management.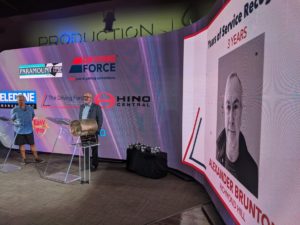 The evening was capped off with a grand prize draw for a $4000 travel voucher.
The Driving Force team was impressed with the way the virtual experience worked and they are contemplating the virtual approach for future events.
"Nothing completely replaces the in-person experience, of course," said Chris Duncan, Production World's Executive Producer. "What does make the virtual experience valuable is the fact that people can connect from across the country. It gives a company a unique perspective of its own culture."
Production World continues to prepare for various virtual events on the schedule. "We're getting bookings into 2021 already. The companies we have worked with thus far are saying the same thing, "says Duncan. "The virtual footprint is very cost effective and, often, more interactive."
The Driving Force award celebration brought two very innovative companies together. It appears that the virtual world of communication is opening new doors. One might say the sky is no longer the limit to virtual possibilities.