On March 13th, the live event production sector imploded. Live events were cancelled. Production World's world was almost completely compromised. Within a week, the company's team turned to virtual broadcasts as a solution. Within 6 weeks, they hosted the first virtual, online event broadcast in Production World's lobby, which had been converted into a studio.
Junior Achievement, led by Jennifer Martin, President, and Production World, led by Executive Producer, Chris Duncan, streamed an interactive gala, co-hosted by Danny Hooper.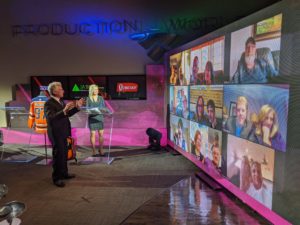 It worked. In the following weeks, activity immediately picked up. By the time the first three months had passed following the transition to virtual, Production World had produced and broadcast virtual online events for the Zebra Foundation, Skills Alberta/Canada, St. Albert Rotary, Driving Force, and the inquiries were coming in.
This past summer, Jon Beckett and Kelly Kimo, Production World's principals, recognized an opportunity that would fuel the company's momentum. They proposed to carve out 3000 square feet in the warehouse and create a hybrid studio: a soundstage capable of production and live broadcast of virtual events ranging from galas and fundraisers to conferences, award shows, webinar series, and more.
It was a vision they could propose because they knew they had the production inventory to make it work. They also had a team of the industry's most experienced and respected people, who had the capability and the motivation to execute the transformation.
It took six weeks. The team worked nights and weekends on top of their ongoing assignments. The PW team had one objective: consolidate millions of dollars in production inventory and open up a 3000 square foot space in the warehouse. So, they moved a lot of gear for the first 3 weeks. According to the team, the warehouse became more efficient as a result.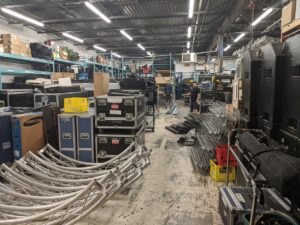 In the next three weeks, the team created what is now known as THE STUDIO. Production world had mobilized many of its key assets: LED walls, trusses, movable lights, cameras including a crane camera, LED monitors, and industry leading sound consoles and speakers., as well as industry-leading streaming and video-switching technology.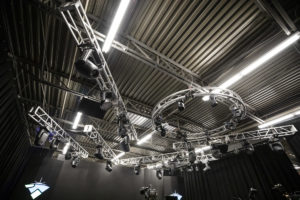 An opening between the lobby and studio was created and fitted with movie-theatre styled doors.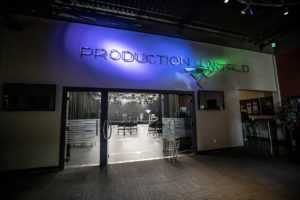 The control centre moved into Production World's operations area and was fully tooled. Pali Blaho, PW's Senior Technical Director, managed the design and implementation. His team included Denton Fraser, Senior Sound Director/Technician; Glenn Davidson, Senior Video Director, Technician and Switcher; and Scott Parnwell, Senior Audio/Video/Online Technician.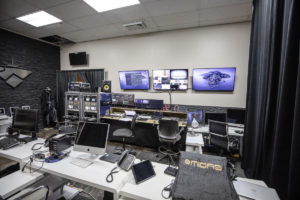 The goal was for THE STUDIO to be ready for the Brett Kissel live online concert on October 2nd. WATCH IT HERE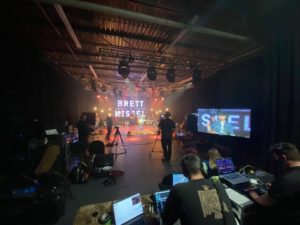 Chris Duncan, THE STUDIO's Executive Producer, has been busy. "We pivoted and it is working. Out of the gate, we broadcasted Brett Kissel's live, online concert. Since then, it's almost a blur. We broadcast a 3-day conference for Connecting Care. Skills Alberta/Canada returned, this time for a very dynamic, interactive, virtual event. We also broadcast a very successful breakfast fundraiser for Inclusion Alberta. The schedule is getting thicker. That's a good thing for everybody here. And it's good to see organizations seizing the opportunity. We're learning from each other."
'Pivoting' is a good way to describe what Production World has done. Other people in the industry recognize this. Kissel compared THE STUDIO to what he would expect to see in Hollywood or New York. Carrie Doll felt like she was walking back into a television news studio. Watch this video featuring Brett Kissell, and two former CTV News anchors, Carrie Doll and Daryl McIntyre and what they have to say about THE STUDIO. WHAT THE PROS SAY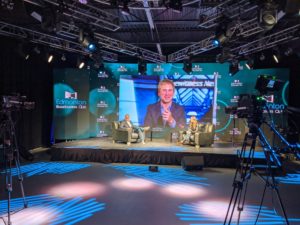 The project white board at Production World, (yes they do mark their schedule with a felt pen), looks busier day by day. As much as it a good thing, it is also a challenge. Jon Beckett, PW's Co-founder, has always been optimistic.
"We have the resources and the team to stay ahead of the curve. Everyone is learning to adapt and grow. We are fortunate that our team reacted early. ZOOM has been a platform we use often. They have been very interested in what we are doing and very supportive. But even ZOOM has to keep developing, because the demands from the production side are increasing. We have seen a bit of everything: live concerts or musical appearances within other events, conferences, galas, fundraisers, award ceremonies … I'm really proud of our team. We're a family, not just a team."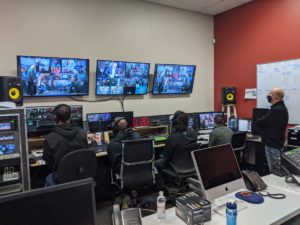 It is interesting to watch Production World's evolution. Recently, Alexion, a global biopharmaceutical company, concluded a broadcast arrangement with Production World and THE STUDIO. A series of informational and interactive broadcasts are now being streamed and captured in THE STUDIO.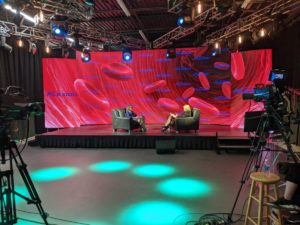 Alexion is focused on serving patients and families affected by rare diseases through the discovery, development and commercialization of life-changing therapies. The ongoing streaming series brings the public and experts together.
Kelly Kimo, PW's Vice President and co-founder, echoes his partner's thinking. "We're a family here. Not just a company. Over the last 25 years, our policy has always been to find solutions when things go wrong, not to debate who is at fault. It's part of our culture."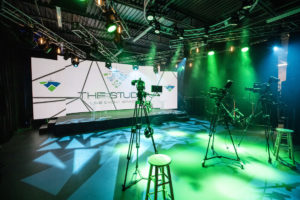 Within the live events sector, Production World is alive and thriving, knowing that things may not get any easier. The industry's prevailing opinion is that live events will not return for some time. With eight months in their pocket hosting and broadcasting virtual events, Production World has created a venue and a production platform for many who are navigating the waters in these times of turmoil.