Let's say it has been 10 years since your company decided to upgrade the audio-visual equipment in the boardroom. Meanwhile, technology has advanced. Everything from smart boards to video conferencing has advanced leaps and bounds. Software, applications and cloud based platforms and services can be baffling, and this is where the aging boardroom is challenged. So what do you do?
Herein is an overview of equipment you might want to consider as your team assesses the company's next step. We got a little help from Ken Greene who heads up the Commercial Division at Production World. "I've seen a lot of changes in my time," says Greene. "But it's the reality of doing business these days, especially when people would rather stay in their offices than travel through traffic for endless face-to-face meetings. It's not that technology should replace real-time human interaction, but technology does improve productivity because it reduces the downtime and increases the work time."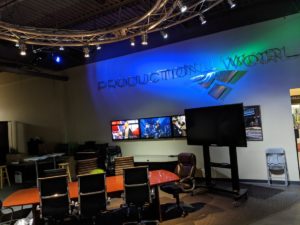 So we asked Greene to put together the starting package for the 2020 boardroom. Here we go.
AUDIO
Shure MXA910 Ceiling Array Microphone is pricey (around $7K), but works well if you want to integrate a microphone into the ceiling. It features Steerable Coverage™ Technology with up to 8 separate adjustable lobes to capture audio anywhere in the room. Autofocus™ Technology fine-tunes the position of each lobe in real time, for consistent sound even if participants lean back or stand up. Onboard IntelliMix DSP provides all the signal processing needed for echo- and noise-free audio. Quickly and easily create room configurations offline and deploy them online with Designer System Configuration Software. In addition to video conferencing, the MXA910 is also ideal for applications requiring voice lift or camera tracking. Versatile mounting options for any ceiling type, including hard ceiling, VESA pole mount, or wire rope suspension.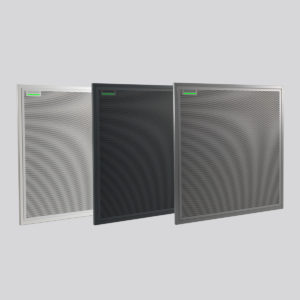 A less expensive option is the Shure MXA310 around $1500, a low profile table array microphone with the Shure Intellimix DSP Suite. The MXA310 integrates smartly into any space, including boardrooms, huddle rooms and multi-purpose areas. You can ensure speech is captured accurately and reproduced intelligibly. And with multiple coverage patterns, it removes the need for extra mics and unnecessary clutter, giving you even more clarity. With up to four simultaneous polar patterns and Steerable Coverage™, you can capture many voices, or focus on one or two for peak response. It prevents unwanted ambience. Office HVAC systems can add overpowering background noise to the call. The Shure-exclusive "toroid" polar pattern only captures table-level sound, helping to reduce unwanted distractions from fan or HVAC noise.
Bose ControlSpace EX-1280C offers signal processing for integrated-microphone audio conferencing applications and is a flexible DSP platform for scalable systems. ControlSpace EX conferencing processors have the features to support rooms of various sizes and the flexibility to meet future needs. As the highest-capability processor of the ControlSpace EX family, the Bose ControlSpace EX-1280C includes 12 mic/line analog inputs, 8 analog outputs, 8 AmpLink digital outputs, 12 acoustic echo cancellers (AEC), and 64 x 64 Dante® connectivity. ControlSpace Designer software simplifies the setup process with drag-and-drop programming, making configuration quick and easy. Bose is tight lipped on sharing their prices for professional technology, but you can anticipate a price point of $3K or more.
Also from Bose, the Freespace DS 100F ceiling speakers are premier high-performance, extended-range, flush-mount loudspeakers designed for foreground music and speech reproduction in a wide range of installed applications. They deliver high output and wide, 160° conical pattern with a frequency range down to 60 Hz. They are a little pricey like many quality ceiling speakers, which comparably range from around $200 to $500 each, but you will never get better sound.
PRESENTATION & COLLABORATION TECHNOLOGY
VIA Campus² PLUS from Kramer is a simultaneous wired and wireless presentation and collaboration solution that makes it easier to get actual work done during meetings. Priced around $3.5K, VIA Campus² PLUS delivers an HDMI™ input for simple and seamless wired connectivity. With any laptop or mobile device, users can view, edit and comment on documents in real time and record sessions. Meeting participants can display or stream full uninterrupted HD video (up to 1080p60) from their device, and even play YouTube® videos in full frame rate.
VIA Campus² PLUS can show up to six user screens on a single main display and 12 on two displays. Users can also view the main display on their own device. The solution can handle any size collaboration or meeting space and is ideal for training venues and classrooms.
VIDEO MONITORS
The Philips 65″ Display LED Monitor delivers startlingly clear images in a more eco-friendly way. High on performance and reliability, yet low on power consumption, Philips 65″ Display LED Monitor is ideal for projects where no compromise is accepted. It comes with a 3 year Advance Exchange Warranty, which means you will never be without a monitor should your Philips need servicing. The price at under $1400 is quite reasonable.
INSTALLATION
The final cost to consider is labour as well as the work that goes into the design. Costs, of course, will vary depending on the supplier, but, it would serve you well to see an installed system by a supplier you're considering in a boardroom like your own. Nothing like the real thing to provide the evidence.
There's plenty of research to support the fact that employees are more productive in a well designed workspace. The boardroom is often the most used space that brings teams together. In an environment that delivers a quality experience, employees will be motivated and inspired. Ultimately, the cost of the boardroom will prove to be one of the best investments any company can make.