On March 13, the live event sector imploded as a result of the response to COVID-19. Within 72 hours, many had lost their jobs, their gigs and their opportunities. Everyone was affected from technicians and performers to promoters, event planners, venues, staff workers — and more. Live event production companies were not the only ones affected. Non-profit organizations could no longer hold their events such as fundraisers and galas.
Production World refused to stand still. Within a short time, Production World and Junior Achievement Northern Alberta started a conversation about creating a live, virtual, fundraising gala event, the first of its kind in the region, which would include all of the hallmarks one would expect: a host and auctioneer, entertainment, a live auction, a silent auction — and charcuterie — delivered by Buco/Sorrentino's right to your door. Within days, Jennifer Martin, the President and CEO of JA, had secured the title sponsor: Quikcard and its founder, Lyle Best, jumped in. The result?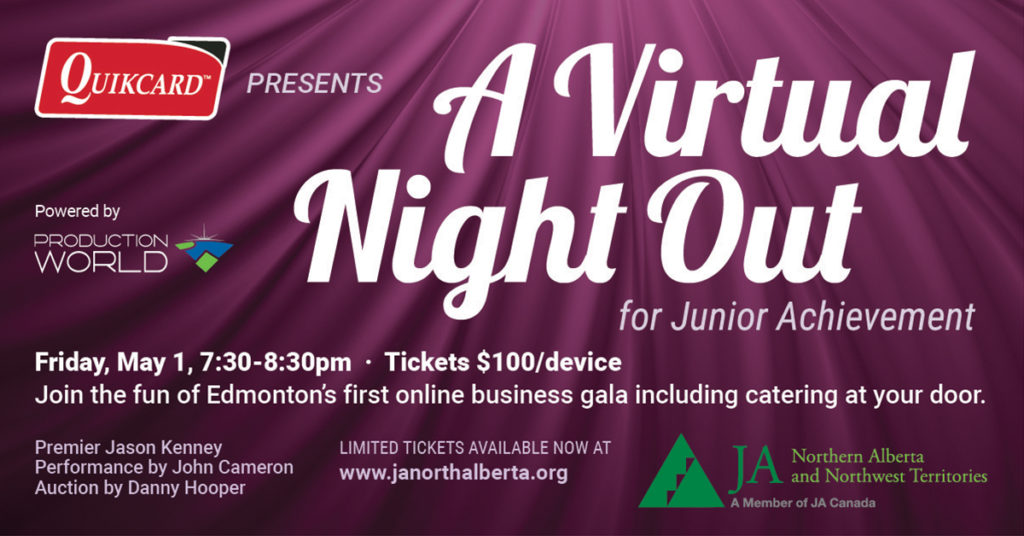 The team had less than 30 days to pull everything together for the May 1st event. Jennifer Martin Rochelle Gilmour, Jennifer's wing-lady, Danny Hooper and the Production World team met (virtually) over the four weeks to plan and mount the event. Even Zoom, the cloud platform for video and audio conferencing, chimed in to offer suggestions and support. Zoom had never seen anything like this concept. Their platform would serve as the virtual connection. Production World would deliver all the content in HD.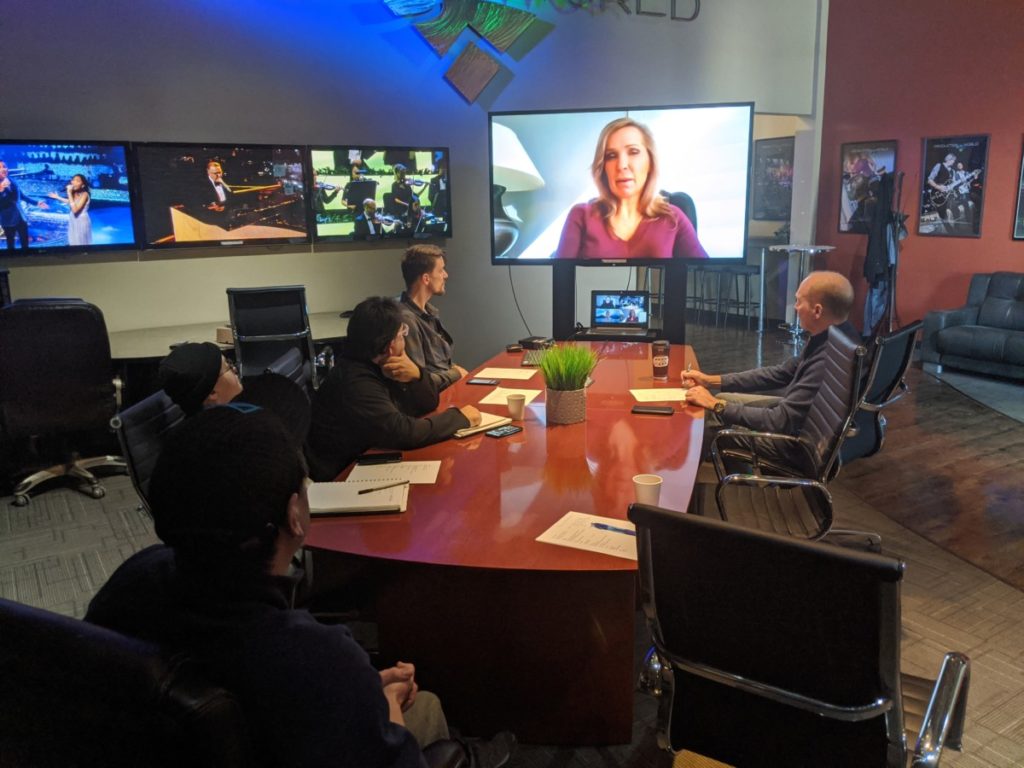 The Junior Achievement team shouldered the marketing, ticket sales and event logistics responsibilities which included securing a caterer, Buco/Sorrentino's to deliver food to the virtual attendees. Danny Hooper would co-host with Jennifer Martin and drive the live auction, interacting virtually with participants on screen. Shop Production World set up the silent auction infrastructure on their own site.
John Cameron (John Cameron Changing Lives Foundation) was on board to perform three musical numbers; Rick Bronson (The Comic Strip) would chip in some comedy and card tricks. Speeches from JA's Hall of Fame inductees would be featured including Blaine Labonte, President, DJI Capital, Radhe and Khrishna Gupta, Rohit Group of Companies, Larry Andrews of Landrex, and Peter Bissonnette, retired President of Shaw Communications, who would speak about JR Shaw who was being honoured posthumously. Sam Pillar and Forrest Zeisler, cofounders of Jobber, accepted the Innovation Award. Even the Premier of Alberta, Jason Kenney, offered to provide a feel-good message.
Production World's team, headed by Chris Duncan, director, along with Pali Blaho, the technical wiz kid, Denton Fraser, the senior audio technician and Glenn Davidson, video technician overseeing the playback of pre-recorded content, began to assemble the technology and plan the production logistics. The team also included Paul Bezaire who would monitor the Zoom activity, Kesara Kimo, editor, and Scott Parnwell, Art Raham and Brian Fletcher, camera operators.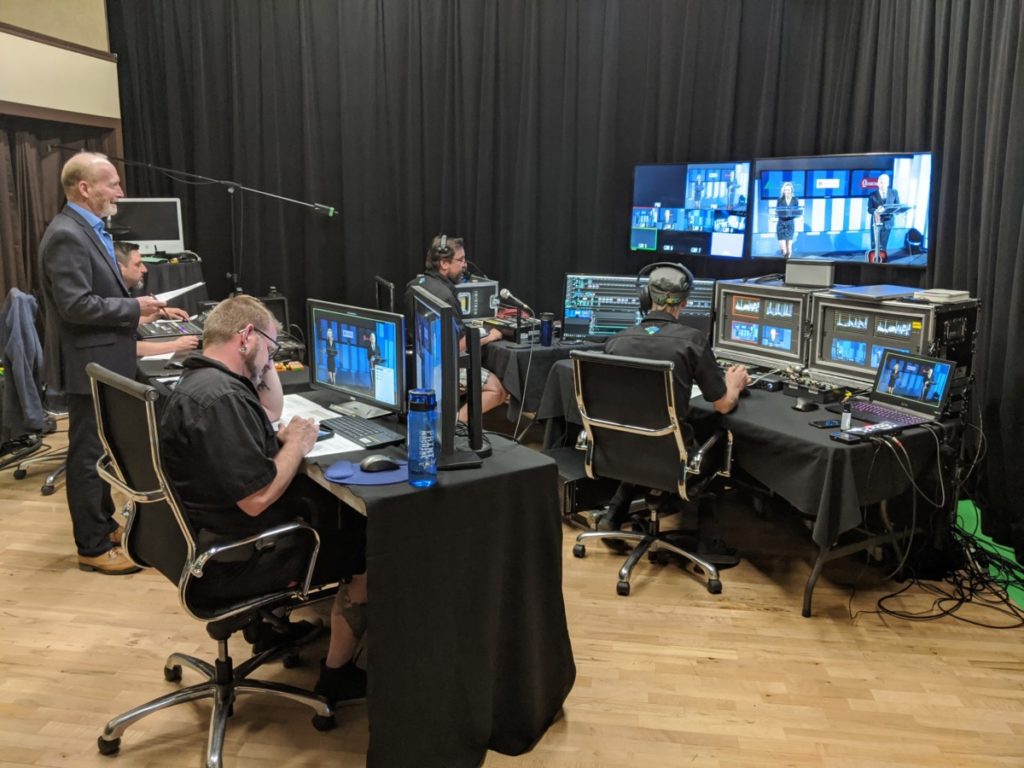 Compliance was top of mind. The event had to be produced such that social distancing guidelines were adhered to as well as control the number of people assembled in the studio.
With everything mapped out, Production World created the main set in their sizable lobby. Two video walls were positioned adjacently along with three monitors plus a reference monitor for the hosts who would stand at two socially distanced podiums. The production team's control centre was set up in the green-screen studio adjacent to the lobby. It was all in the details including the availability of masks, gloves and sanitary wipes.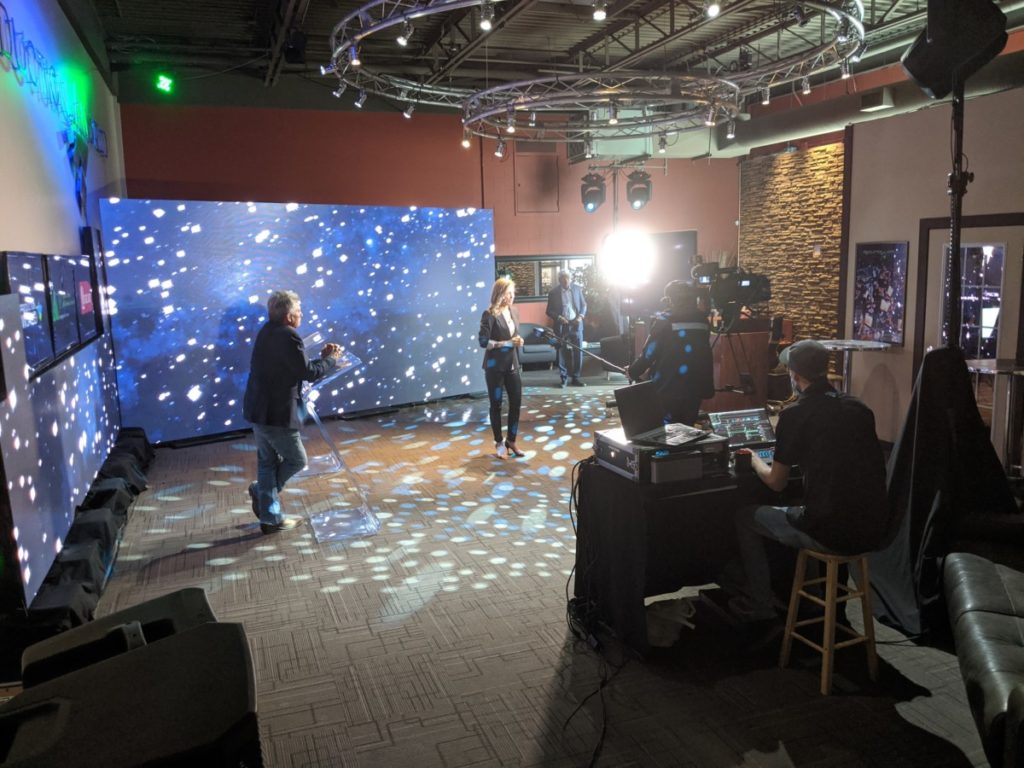 At T-minus one week, rehearsals began. Global TV (media partner), CTV, and CityTV covered the story. Edmonton was beginning to hear about this unique event. Ultimately, the team would conduct two rehearsals with the hosts and one technical rehearsal. Nothing was left to chance.
May 1st, 2020. V-day — meaning "virtual". The nervous energy of the team could be felt and as Kelly Kimo, co-founder of Production World, said in answer to Jennifer Martin's question, "This is gonna work, right?", he replied in his unflappable way, "Hundred percent!"
At 6:30pm on May 1st, Pali Blaho, the young, brilliant technician who had found the way to marry high-quality content delivery to Zoom's meeting platform, flipped the switch. For the next hour, participants began logging in. Denton Fraser made sure the online music had symbolic value, playing songs that somehow echoed the context of the moment.
At 7:30pm, the event launched. Over 250 people were connected online.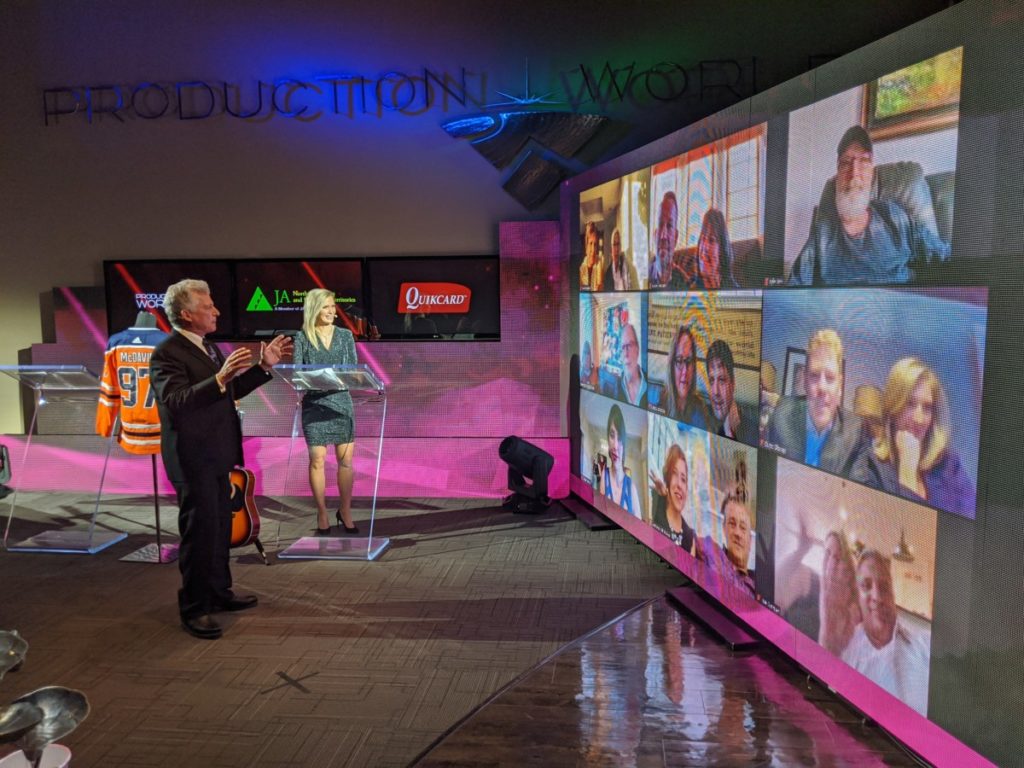 For the next 90 minutes, history was being made. Cues were executed seamlessly. Danny Hooper was true to form, delivering a performance that was uncannily funny. Rick Bronson performed his "QUIK" card trick, which included a "how-did-they-do-that" reveal in the day's Edmonton Journal.
The tension mounted going into the live auction. Within 20 minutes, that tension gave way to elation. Danny had called three items and raised over $30,000 including $10,000 for a signed (and unframed) Connor McDavid jersey. Although not confirmed at this writing, it is believed to be the highest amount ever paid for a McDavid jersey. By the end of the night, over $50,000 had been raised for Junior Achievement in support of their online programs.
With a last emotional song performed by John Cameron, the event came to a close. Production World and Junior Achievement had succeeded in "making a difference from a distance".
There is an anonymous quote that reads: "If you never go, you will never know."
Well, now we know.