So, in a world of voiceover artists, you want to be one? Before you consider a website to join, consider this. Having a unique sound only gets you so far. Voiceovers require skill: breathing, phrasing, pacing and interpretation. Some websites dedicated to voice actors offer tutorials and how-to articles, which can help the aspiring voice actor learn the skill — and, remember, it is a skill. In fact, some would say it is both an art and science.
The most appealing aspect of doing voice work is that it can be done at home. Of course, you would need a microphone and recording equipment plus sound shielding, but we'll get to that later.
VOICEOVER WEBSITES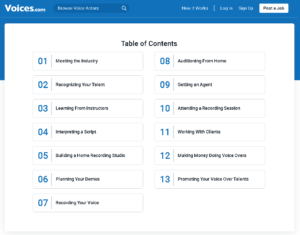 Founded by David Ciccarelli, a Canadian entrepreneur with a background in audio engineering, this website offers education and plenty of opportunities. In over 10 years, the site has grown to over 200,000 voice talents from around the world. What that tells you is how competitive the industry is.
Notwithstanding the challenge voice artists face, Voices.com provides a fabulous platform. It's free to sign up and gain immediate access to job postings and auditions, webinars, coaches and much more. The site even handles your billing through its Surepay system. What we like about this site is that the client has to pay up front before an actor steps in front of a microphone.
Voice123.com landed on the scene in 2003 and has a very respected track record thanks to founders Alexander Torrenegra and Tania Zapata. He was a webmaster and she wanted to break into the radio business. The site now boasts over 200,000 voice actors.
Sign up is free. Although it offers plenty of opportunities and support information, the actors handle their own billing.
VOPlanet.com is for both union and on-union actors and it's free. There are no charges such as management fees or commissions. Casting directors can contact and even hire voice actors directly. The billing is direct between client and actor. As for rates, VOPlanet suggests the GVAA Rate Guide (Global Voice Academy). The site also prevents underbidding for projects to keep the rates stable. An actor can ask for a higher rate and VOPlanet has a process that allows the actor to submit the request.
Zurek is one of South Florida's best known radio personalities. Zurek, also known as Rick Party, founded VoiceoverUniverse.com in 2008 and attracted some of the icons in the business including Don LaFontaine (see In A World Part 1) as well as Joe Cipriano.
Like other sites, it's free to sign up. Members can enjoy VO (voiceover) lessons, forums, groups, videos and ongoing events. Actors can access coaches. When it comes to billing, you're on your own.
Before we dive in, this is a site for professionals only. In 2017 they cracked $2 Million in voiceover jobs. They also have a UK-based company and have appealed to advertising agencies around the world. This is a very comprehensive and well-tooled site that makes the project process seamless. Their digital technology enables casting, recording and payment. Also, they have set rates, which they boast beats talent agency rates. This alleviates the need for the actor to quote or bid. Another nifty thing: the "in studio" button lets people checking out your profile know that you are immediately accessible.
MICROPHONES and MORE
Unless you are fortunate enough to have dozens of sessions a week and can afford to hire a studio, having your own studio is the way to go. Thanks to today's technology, the home recording studio, especially for voiceover work, is easy to put together and does not have to cost an arm and a leg.
Let's take a look at some gear that can get you there.
The Shure SM7B is a favourite for long narrations and audiobooks. It comes with switchable response tailoring and the A7WS windscreen. The internal "air suspension" shock isolation virtually eliminates mechanical noise transmission.
The Neumann TLM 102 is ideal for the home recording and project studio sector, as well as for the broadcasting area, especially when clear lines of sight to the speakers are a priority.
The Neumann U87 celebrated its 50th anniversary with a very special limited edition: the U 87 Rhodium Edition. It's in demand from studios, broadcasting, film and television. It features three directional patterns.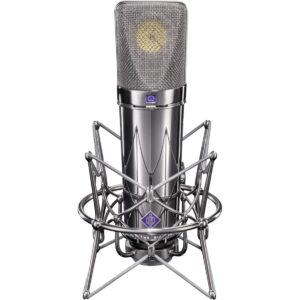 The RØDE NT1-A 1 cardioid condenser microphone has become an industry standard delivering the warmth, extended dynamic range, clarity and high SPL capability typically only featured on some of the world's most expensive microphones.
Equipped with a USB output, the Audio-Technica AT2020USB Plus is designed for digitally capturing any acoustic audio source using your favorite recording software. It requires no pre-amp and comes with self-monitoring.
The Marantz Professional Sound Shield is a professional vocal reflection filter perfectly sized for any studio space. It shields the recording microphone from those distracting acoustic artifacts, creating a cleaner, more focused, intelligible recording.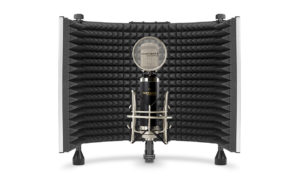 The Shure SRH1540 Premium Closed-Back Headphones deliver superior acoustic performance, comfort, and durability with clear, extended highs and warm bass. It also features Alcantara ear pads for maximum sound isolation and comfort.
The Sennheiser HD 300 PRO headphones provide incredible wearing comfort and detailed sound. Viscoelastic earpads and specially sealed acoustic elements provide efficient shielding against external noise.
The Berhinger XENYX Q502USB is the perfect mixer for voice artists. It's an ultra-compact mixer with 5 inputs (1 mic, 2 stereo) allowing you to effortlessly achieve premium-quality sound, thanks to its onboard studio-grade XENYX Mic Preamp. Along with its built-in USB/audio interface, the Behringer Q502USB mixer comes with all the recording and editing software needed to turn your computer system into your own personal high-performance home recording studio.
The Mackie ProFX8V2 is an 8-Channel Professional Effects Mixer with USB. Mackie ProFXv2 mixers provide a comprehensive sound solution with the all-new preamps and effects engine plus tools like GEQ and USB recording/playback. They do have a 4-channel version but without USB capability.
Now you're ready to get that voice career started. In a world where voices make money, the world awaits yours.