Shure's SLX wireless systems have always been favoured by live event and concert producers, and musicians. With the introduction of the digital version, SLXD, the wireless game has been amped up. In a world saturated with RF signals, the SLXD systems cut through and remain reliable. The SLXD systems offer new mechanical designs, exceptional audio quality, more reliable RF performance, streamlined setup, and more.
The multi-faceted SLX-D Digital Wireless System provides end users with greater channel count than SLX, smart rechargeable options, and simplified ease-of-use for moments that matter most – in the classroom, Houses of Worship, corporate facilities, the hospitality sector, — anywhere wireless is needed. The new system is offered in single and dual channel options. Transmitters run on standard AA batteries or an optional lithium-ion rechargeable battery solution with a dual-docking charging station. SLX-D is a state-of-the-art system with several notable features and user-friendly benefits, including:
RELIABLE RF
With outstanding signal quality and digital modulation, SLX-D lets users navigate crowded environments with high spectral efficiency and dependable RF. The system enables operation of up to 32 channels per frequency band without worrying about dropouts or signal fades.
EXCELLENT AUDIO QUALITY
To ensure every performance, lecture, and speech is delivered flawlessly, SLX-D delivers crystal clear sound. With a wide dynamic range, it can handle a variety of inputs while preventing distortion – ultimately enabling clean, natural instrument and vocal sound.
EASE OF USE
Knowing that personnel in various institutions and facilities need a simple and straightforward solution, SLX-D is equipped with Guided Frequency Setup and a Group Scan feature that lets users set up multiple channels more efficiently by assigning frequencies to all receivers automatically via ethernet connections. Even for a 30+ channel system, the entire Group Scan can be completed within a few seconds.
"As we support customers in education, Houses of Worship, corporate facilities and theaters, we recognize the need for an easy-to-use digital wireless system with rock-solid RF performance that can scale as the needs of the venue or spectrum environment change," said Nick Wood, Senior Wireless Category Director at Shure. "With SLX-D, we can offer a solution that is both state-of-the-art and a great value."
Here's a peak at some of the new line-up.
The Shure SLXD2/Beta87A  handheld transmitter with the Beta87A condenser capsule. It also can come with the SM58. SLDX24, the 24-bit version also comes with either the Beta87A or the SM58.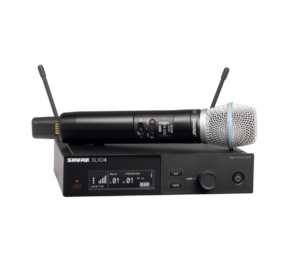 The Shure SLXD124/85 Wireless combo system includes the transmitter, lavalier mic, body pack transmitter, SLX4 receiver, rack mount kit and more.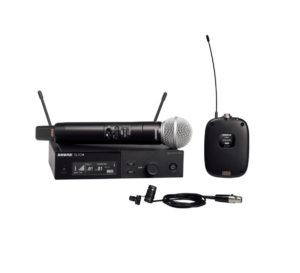 Also new from Shure is the SM58-CN-BTS Microphone kit, a nice tidy package for any vocalist, which includes the SM58 along with a microphone clip , a 25′ XLR to XLR microphone cable, a zippered pouch and mic stand.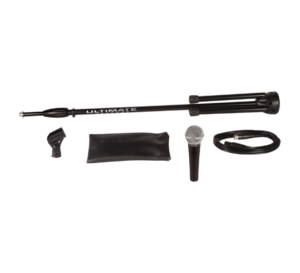 Also new from Shure is the SBH2350 Aonic wireless headphones.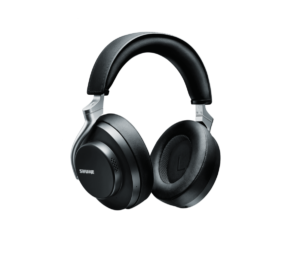 "Shure has always been reliable when it comes to wireless technology and, especially wireless systems. We're really happy with the SLXD. It's a great step up in the digital environment," says Kelly Kimo, VP of Production World.
Needless to say … when it comes to wireless  … dare we say it … it's a Shure thing.