Maximizing online business communications
Given the times we find ourselves in, we are doing what we can to keep moving forward. If there is any silver lining in all this, it is that we can communicate … with family, friends, colleagues. In a world driven by meetings, huddles, conferences, collaboration sessions … et al …, we have embraced the technology that allows us to connect online and work in real time.
Here are different conferencing/collaboration technologies and gear that are worth a look. Certainly, many entrepreneurs, small business operators — right up to larger corporations — have been using online communication and conferencing as a productive way to work together. There are always options to be aware of as you develop your communication network.
Here's a look at three companies manufacturing excellent gear to serve the aforementioned. If you want to dive deeper on something, reach out to us. You can connect through our website, ShopProductionWorld.com,  There are links provided in this article, which take you to each product discussed and where you will find more comprehensive details.
The products we are covering come from AVer, Roland, and ClearOne. As a final note, ShopProductionWorld.com does offer financing through Paybright. There are 3 convenient options to finance anything you would like to acquire. Read more at this link. FINANCING OPTIONS
AVer
An award winning company, AVer, has developed cameras and systems that are truly remarkable. Following are three products to give you an introduction.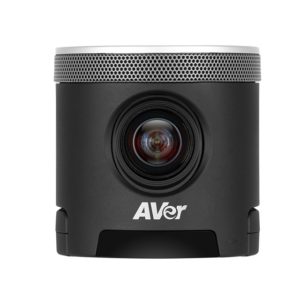 The first thing to appreciate about this versatile camera is its 120 degree FOV (field of view). For groups collaborating in a boardroom, the CAM340+ delivers excellent deep focus and 4x zooming capabilities. The resolution is 4K at 30fps (frames per second). Add to that a microphone, USB connectivity, white balance, back light compensation, pan and tilt — and more!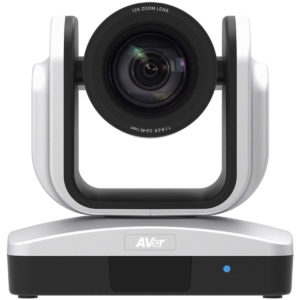 This is the more affordable camera in the line-up, but still offers broad compatibility. It delivers a full HD 1080p at 60fps and boasts both USB and HDMI connections. The 12x optical zoom, 10 camera presets and infrared remote are great bonuses.
AVer VB342 USB Camera SoundBar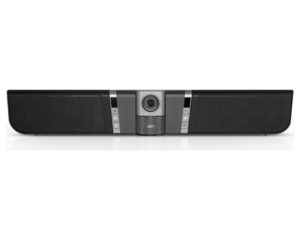 Have your cake and eat it, too. Besides the 4K camera delivering 85 degree horizontal FOV, white balance and back light compensation, this package includes 2 uni-direction microphones and a 5 watt stereo full range speakers with echo cancellation and noise suppression. In addition, a 3.5mm line-in (aux) cable connects BYOD smartphones or a PC as a speakerphone.
Roland
Roland is a Japanese company founded in 1971 and currently employs thousands of people worldwide. Roland certainly made an impression with early synthesizer and drum machines and eventually amplifiers and more. Roland is considered one of the most innovative companies in its sector. Their products now offer online communicators incredible scope and versatility. Here are three of those products.
Roland VR-1HD AV Mixer with USB Streaming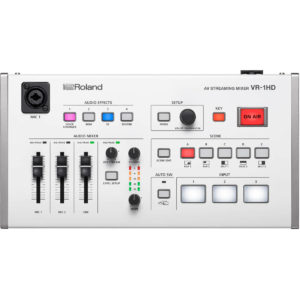 The Roland VR-1HD AV Mixer with USB Streaming is for content creators seeking maximum engagement. Its live-streaming outperforms uploaded video by a significant margin. The Roland VR-1HD AV Mixer lets you broadcast dynamic multi-camera live streams, complete with amazing picture and sound that easily outshines 'standard' live streams from a mobile phone or static webcam. Whether you're a creator, podcaster, gamer, commentator or presenter, it's the easy way to live stream with high production standards.
Roland VR-4HD AV Mixer with USB Streaming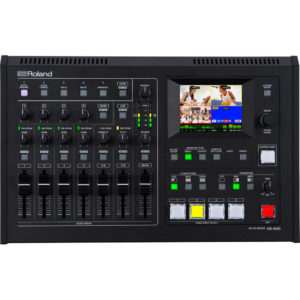 The Roland VR-4HD AV mixer is a complete HD studio in a compact and portable package that replaces several different pieces of complex A/V equipment. Designed with single-person operation in mind, the VR-4HD enables easy switching and mixing of sound and video using advanced video and audio Digital Signal Processing (DSP) along with dedicated hardware controls faders, buttons and touch screen interface. It beautifully integrates a digital audio mixer, video switcher, multi-viewer touch screen and USB video/audio streaming interface into a stand-alone device. The Roland VR-4HD AV mixer is a portable live HD production solution is ideal for schools, churches, council meetings, corporate events, sports, training sessions, or any other live event.
Roland VR-50HD MKII Multi-Format AV Mixer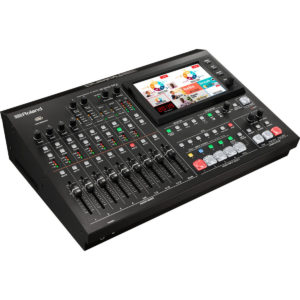 The Roland VR-50HD MKII Multi-Format AV Mixer is loaded with new productivity features inspired directly from user feedback. the Roland VR-50HD MKII Multi-Format AV Mixer is the next evolution of Roland's industry-leading, all-in-one AV switcher with USB 3.0 streaming. Easily operated by a single person, the VR-50HD MK II continues to deliver best-in-class connectivity and flexibility, allowing you to work a wide range of events with different I/O requirements. The powerful VR-50HD MK II is a completely self-contained AV solution, consolidating video switching, digital audio mixing, multi-viewer touchscreen control, and USB AV streaming and recording into a single unit that's simple to run. And with the comprehensive rear patch panel, it's quick and easy to make on-the-fly input assignments to cross-points on the switcher.
ClearOne
ClearOne is a global company that has been designing and manufacturing conferencing systems for many years. We have one item from their bin.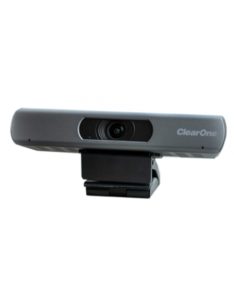 This efficient unit offers 4K video, auto-focus, and 3x digital zoom. What's more impressive is the 120 degree ultra-wide angle field-of-view and wide dynamic range support for optimal image capture. What also makes this camera a workhorse is the super-high SNR with advanced 2D and 3D noise reduction. You will enjoy a full-function USB 3.0 interface for video and power, plus you can control the camera's functions via IR remote or UVC protocol.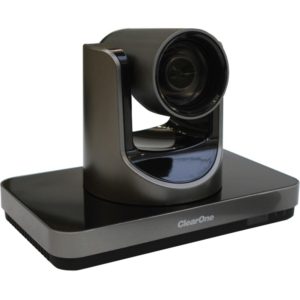 The  ClearOne Unite 200 PTZ Camera is a versatile professional-grade PTZ camera with USB, HDMI, and IP connections. is a Full HD 1080p video, with 12x optical zoom, and wide-angle capability to capture all participants in the room with advanced noise reduction. ClearOne Unite 200 PTZ Camera is a versatile professional-grade PTZ camera with USB, HDMI, and IP connections.
AV Systems Design and Installation
Production World's commercial division is a well-heeled AV systems design and installations hub. They design systems for conferencing and collaboration involving such brands and products as the VIA Campus Plus Solution.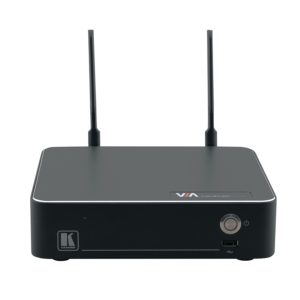 There's More!
But we had to draw the line somewhere. There are many options and we can walk you through any of them. ShopProductionWorld.com is excited about these products and we can guarantee it will take your online communication engagement to a higher level. Please visit our website to get more details on these products. We'd like to hear from you.